Original Text from Xinhua
BEIJING -- A Beijing Olympics official said Thursday he was "disappointed" that a South Korean TV station had broadcast some footage of a dress rehearsal of the Beijing Olympics opening.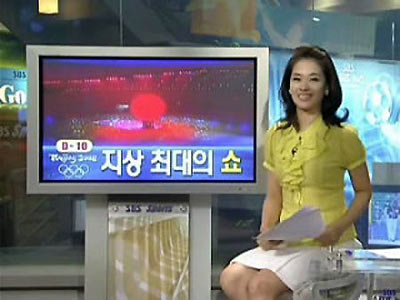 An anchor from a South Korean TV station reports the dress rehearsal of the Beijing Olympics opening in this video grab, July 30, 2008. [sohu.com]
"We are disappointed they did that, but the fragments cannot give the audience a full picture of the opening ceremony," said Sun Weide, a media official with the organizing committee of the Beijing Games.
"Let's wait for the wonderful performances when the Games open on August 8," he said at a press conference.
The three-and-a-half-hour opening ceremony masterminded by award-winning film director Zhang Yimou has been kept in top secrecy.

But the SBS TV station reportedly aired fragments of a video of the rehearsal, including scenes depicting the past and future of Chinese culture and the unrolling of a huge scroll from which rises a carpet-like object.
"We're still verifying the matter," Sun said in response to an Australian journalist's question on whether the South Korean journalists involved would be penalized.
According to sources with the International Olympic Committee, photographers who take any still images of the dress rehearsals face legal action and withdrawal of accreditation for the Games if they leak the secret.
Zhang Yimou's team of elite artists have made three years of preparations for the opening show, which is expected by the Chinese to showcase the essence of China's rich culture, concept and vision to the world.
online casino australia
online casino australia